6 March 2020
PhD project about organic hydrates published in Nature Communications
Publication
Peter Okeyo can be proud: he not only successfully defended his PhD thesis, he also got his results published in no less than three major papers, and managed to encompass almost all of the Department's values in the process as well.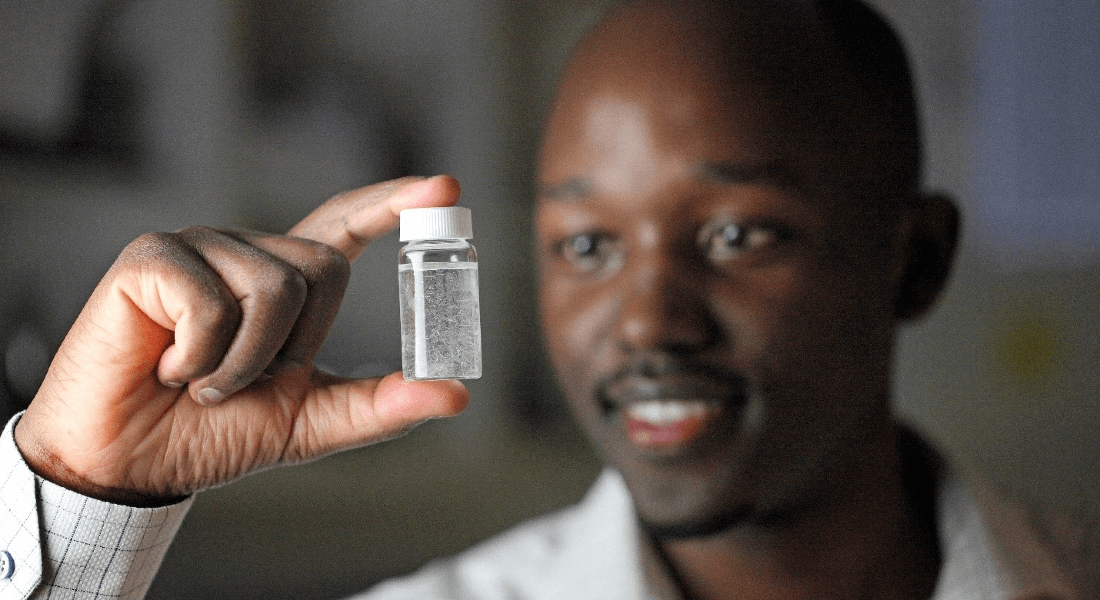 His PhD thesis is entitled Dehydration of organic hydrates at the particulate level and was defended on January 24, 2020. His work is the result of a project focusing on dehydration of organic hydrates at the particulate level, which is a phenomenon that is not well understood and can result in impurities in the drug. This work hold out hopes of new developments in early drug development where a comprehensive understanding of the drug is paramount.
The project is a collaboration with the Center for Intelligent Drug Delivery and Sensing Using Microcontainers and Nanomechanics (IDUN, Technical University of Denmark). Peter Okeyo was supervised by Professor Jukka Rantanen (Manufacturing and Materials) Professor Thomas Rades (Head of Research and member of Solid State Pharmaceutics group), Professor Anja Boisen, (Technical University of Denmark, Head of IDUN), Dr Oleksii Ilchenko (Technical University of Denmark) and Dr. Peter Emil Larsen (R&D Engineer at Radiometer).
The outcomes of Peter's research were published in IEEE, one in Scientific Reports, two other articles in the prestigious Nature Communications journal.
Okeyo, P.O., Larsen, P.E., Kissi, E.O. et al. Single particles as resonators for thermomechanical analysis. Nat Commun 11, 1235 (2020).
Ilchenko, O., Y. Pilgun, A. Kutsyk, F. Bachmann, R. Slipets, M. Todeschini, P.O. Okeyo, H.F. Poulsen, A. Boisen. Fast and quantitative 2D and 3D orientation mapping using Raman microscopy. (2019). Nature Communications 10, 5555 (2019).
Okeyo, P.O., Ilchenko, O., Slipets, R., O., Larsen, P.E., Boisen, A., Rades, T., Rantanen, J. Imaging of dehydration in particulate matter using Raman line-focus microscopy. Scientific Reports 9, 7525 (2019).
By its nature, the project is an illustration of the Department's ambition to scientific excellence, its engagement in collaboration and partnerships across institutions and disciplines, as well as its commitment to diversity and internationalization.