30 January 2020
Johan Bøtker awarded the 2019 AAPS Pharmaceutical Research Meritorious Manuscript Award
Award
Assistant Professor Johan Peter Bøtker has received an international prize on November 3rd, at the occasion of the Opening Session of AAPS PharmSci 360 conference, in Texas. The prestigious prize recognises outstanding contributions to original research published in the Pharmaceutical Research journal.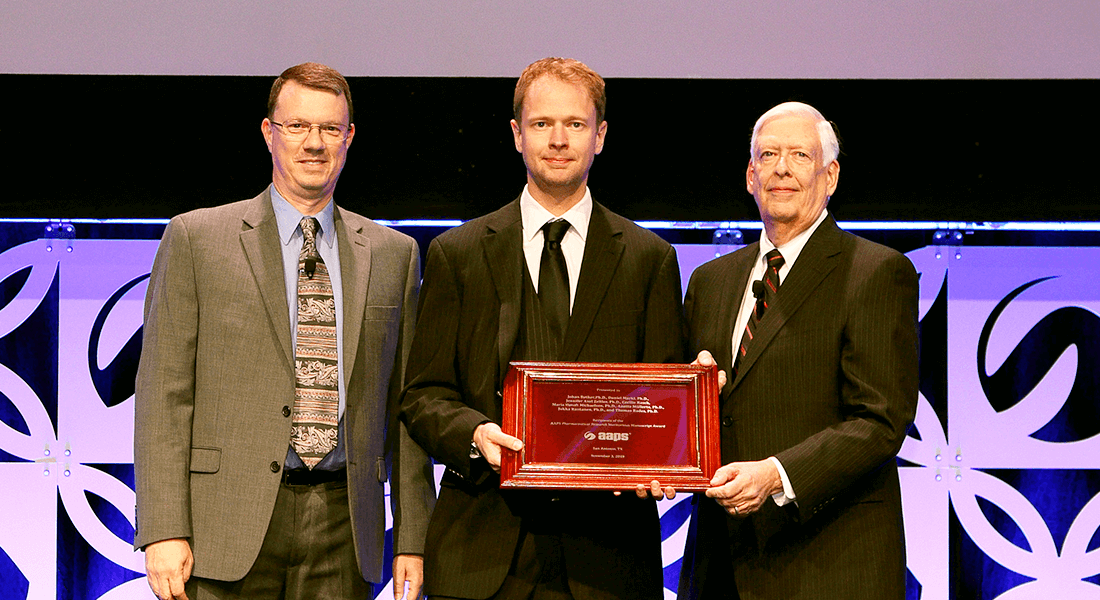 The publication related to the prize is Analysis of 3D Prints by X‐ray Computed Microtomography and Terahertz Pulsed Imaging, published in 2017. The related research project focused on continuous manufacturing of pharmaceutical products, which has helped to gain a better understanding of 3D printed dosage forms. In the future, it may help drug developers to make precision medicine (i.e. personalised medicine) for the population, thus providing a better medication scheme for the individual.
"The news came as a surprise to me", Johan Boetker says. "The prize is given at the discretion of the Pharmaceutical Research editor and we had not applied for any award. I am delighted, of course."
The publication is the result of a collaboration with fellow researchers from the University of Cambridge, UK, as well as colleagues from the Department, Prof. Anette Müllertz (Physiological Pharmaceutics), Prof. Jukka Rantanen (Manufacturing and Materials), and Prof. Thomas Rades (Head of Research and member of Solid State Pharmaceutics group).
Johan Bøtker is employed at the Department in the Manufacturing and Material group. His current research now focuses on computer vision and acoustic analysis.