26 September 2016
Professors at Department of Pharmacy issue book on analytical techniques
New book
The book "Analytical Techniques in the Pharmaceutical Sciences" from authors Professor Anette Müllertz, Prof. Thomas Rades, both from Department of Pharmacy, and Professor Yvonne Perrie from Strathclyde University, Glasgow, Scotland, has recently been published by Springer.
Professors Thomas Rades, Anette Müllertz and Yvonne Perrie have edited and published the book "Analytical Techniques in the Pharmaceutical Sciences".
Purpose and content
Below an excerpt from the Preface that summarizes the purpose and content of the book: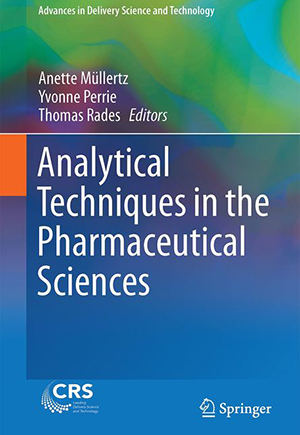 "Progress in all areas of the pharmaceutical sciences, from drug discovery and biopharmaceutics to drug delivery and pharmaceutical technology, has long been strongly connected to the development and application of analytical techniques.
Without the development of HPLC and its application to plasma samples, there would be no plasma concentration time curves and no development of the concept of bioavailability.
Without solid-state analytical techniques, like X-ray powder diffraction and thermal analysis, the importance of the solid-state form of a drug on its pharmaceutical performance could not have been studied, let alone understood, to name but two examples.
This list could continue endlessly. But analytical techniques have also evolved as pharmaceutical questions have been more clearly stated. An example for this is the continuous development of dissolution testing, initially used for the quality control of dosage form, to now also having physiologically relevant dissolution testing aiming to understand the performance of a dosage form in vivo.
This book brings together a large range of analytical techniques of specific relevance to the pharmaceutical sciences. The techniques are introduced to understand their theoretical background, but also to highlight their pharmaceutical applications."
Details on the book
Editors: Anette Müllertz • Yvonne Perrie • Thomas Rades
Title: "Analytical Techniques in the Pharmaceutical Sciences"
Published by Springer, 2016.
Approx. 830 pages.
Analytical Techniques in the Pharmaceutical Sciences Advances in Delivery Science and Technology
ISBN 978-1-4939-4027-1 ISBN 978-1-4939-4029-5 (eBook)
DOI 10.1007/978-1-4939-4029-5